Another report out of MacRumors today reveals that iPad applications that will be available to iPad owners on release day have begun showing up in the iPad App Store. Though the article makes no mention of how MacRumors was able to access the App Store, it provides some notable details on what is currently available.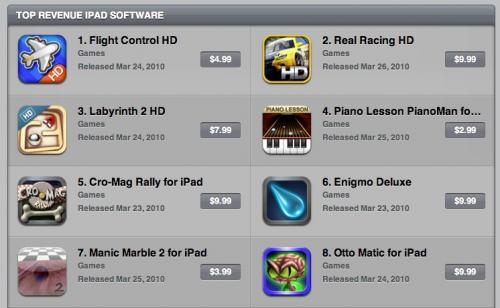 Perhaps interestingly, of the current top eight iPad applications (by revenue), all are games. Of course, it is completely unclear how many of the lucky few with an advance iPad are out there, so these statistics could be completely meaningless.
Also of note is the seemingly high price tag on most of the iPad applications currently in the iPad App Store. As the article notes, most of the iPad apps in the store currently have $9.99 price tags, which is significantly higher than the average app price in the iPhone App Store.
While it is likely that these high price tags will drop by launch, as competition between developers heats up as more and more iPad apps hit the store, nothing is certain. There's always the possibility that iPad owners could be in for a bit of sticker shock when it comes to iPad apps.
The iPad arrives April 3rd in homes and in Apple Retail Stores and, as was revealed earlier today, will also be sold in most Best Buy retail locations.