Starting on May 16 the USPS will ban all international shipments of lithium batteries for safety reasons. Although device manufacturers such as Apple ship their products with a limited charge to help prevent incidents, used iPads and other items shipped by consumers can be dangerous depending on a variety of factors.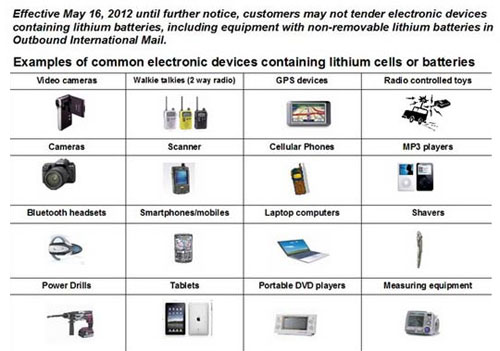 Lithium batteries have been responsible for several fires on passenger airplanes and are blamed for two fatal cargo plane crashes in the past five years. As Fast Company points out, the ban will have the largest impact on military members serving overseas. Although FedEx offers delivery service to APO, FPO and DPO addresses, lithium batteries are not allowed.
After the ban takes effect on May 16, those looking to ship an iPad or other lithium powered electronic device to a family member or friend overseas will have to use a private delivery service such as DHL, FedEx or UPS and send the item to a civilian address in country.
The ban was instituted thanks to an agreement between the International Civil Aviation Organization and the Universal Postal Union. USPS may reconsider the ban and allow some lithium battery shipping by the start of 2013, provided safety precautions are met. A list of popular electronic items that commonly contain lithium batteries has been identified by USPS:
Tablets including the iPad
Video cameras
Walkie talkies (two-way radio)
GPS devices
Radio-controlled toys
Cameras
Scanners
Cell phones
MP3 players
Bluetooth headsets
Smartphones
Laptop computers
Electronic shavers
Power drills
Portable DVD players
Electronic measuring equipment