Activision plans to release the full version of Skylanders Trap Force to tablets the same day the console version hits stores on October 5th. The tablet version will offer the same experience as the console version plus it will ship with its own built-in tablet stand, portal and exclusive wireless controller This will be the first time that an AAA title will be simultaneously released in its full version for both consoles and tablets.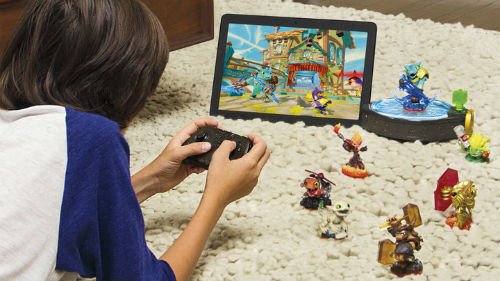 The Skylanders Trap Team Tablet Starter Pack will retail for $75, the same price as console Starter Packs, and include two Skylanders characters, two traps, the controller and portal. The only bad parts is that app itself will take up a whopping 6GB of space. The Tablet Starter Pack is now available for pre-order through retailers such as Amazon.com
Trap Team is the fourth title in Activision's Skylanders franchise. The game requires players to purchase individual action figures equipped with NFC technology that allows them to unlock characters within the virtual Skylanders world. Players can do this by placing the various figures on the "Portal of Power" included in the $75 Starter Pack. Players can also use the previously released Skylanders Giants and Swap Force toys with the Trap Team game.
The Skylanders model is so popular that it has been copied by Disney Infinity and even Angry Birds.
Skylanders Trap Team will be available on October 5, 2014 for the Nintendo 3DS, Wii, Wii U, Microsoft Xbox 360, One and the Sony PlayStation 3 and 4. The tablet version will support:
iPad 3rd Generation, iPad 4th Generation, iPad Mini Retina, iPad Air
Kindle Fire HDX (7", 8.9")
Google Nexus 7 (2013)
Samsung Galaxy Tab Pro (8.4", 10.1", 12.2")
Samsung Galaxy Tab S (8.4", 10.5")
Samsung Galaxy Note 10.1 (2014), Galaxy Note Pro 12.2
UPDATE: Polygon has confirmed that the Bluetooth controller will only support the Skylanders game and will not be sold separately.