More Adobe products are coming soon to the App Store, this time iPad applications designed to work in tandem with Photoshop in the latest Creative Suite (CS), version 5.5. The three apps are Adobe Color Lava, Adobe Eazel and Adobe Nav, enabling designers to operate Photoshop tools directly from their iPads.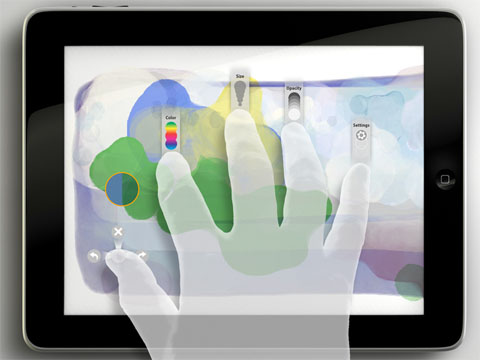 A Photoshop Touch Software Development Kit (SDK) has also been announced by Adobe, providing developers with the ability to create their own iOS, Android and BlackBerry Tablet OS applications that interact with Photoshop on desktop computers. In addition to the iPad apps, Adobe is emphasizing that CS 5.5 makes it easy to design for any screen size, with a focus on the mobile space.
Also included is HTML5 support, of particular interest to iOS developers, as Apple refuses to allow Flash to run on its mobile hardware. According to David Wadhwani, senior vice president for Creative and Interactive Solutions at Adobe, "Adobe is leading the charge for HTML5 authoring with new capabilities in CS 5.5 that will radically enhance the delivery of HTML content across multiple browsers- on the desktop, tablets and smartphones. For creators of mobile apps on iOS, Android or BlackBerry Tablet OS, our latest Flash tools deliver stunning high-performance apps, without having to start from scratch for every device."
AppleInsider reports that Adobe InDesign CS 5.5 and the integrated Folio Producer toolset makes it possible for designers to enhance their publications specifically for iPad and other mobile device screens. The separate Adobe Digital Publishing Suite provides a companion publishing service that remotely hosts content formatted for the iPad and other tablets.