Halfbrick Studios' entire iOS gaming library is now free on the Apple App Store. This includes popular titles like Fruit Ninja and Age of Zombies. It is unknown if this a limited time deal or if Halfbrick has decided that freemium is the way to go. Here's a list and quick description for each game.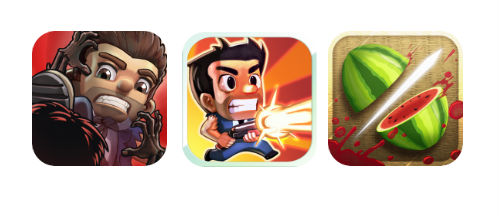 - Fruit Ninja HD: (Fruit Ninja for the iPhone and iPod touch) This is one of the original App Store hits with millions of downloads. The simple game tasks you with destroying as much fruit as possible.
- Age of Zombies: Play as the "tough-as-nails" commando named Barry Steakfries as you blast zombies, ninjas, mummies and more...
- Jetpack Joyride: The 2012 Apple Design winner, Jetpack Joyride is a side-scrolling endless runner. The game was voted Best Action game of 2012 by Touch Arcade and Overall Game of the Year by Pocket Arcade.
- Monster Dash: "In a world filled with monsters and without public transportation, one man is running." Barry Steakfries is back, and this time he's battling demons, mummies, vampires!
- Colossatron: Massive World Threat: This time you play as a giant robotic snake trying to destroy the world.
- Fish Out of Water!: Throw your fish and see how long you can keep him out of the water.
This is the perfect opportunity to try out some of the most popular games on the App Store for free! Just make sure you take advantage of these free downloads now, because they could go away at anytime.