Amazon today has extended its Cloud Drive service by offering two new paid storage plans. Previously Amazon's "Unlimited Photos" plan was only available to customers with a Prime subscription, but now anyone can store unlimited photos on Cloud Drive for only $11.99 per year. Amazon also unveiled its new "Unlimited Everything" plan, where users can store unlimited photos, movies, music and so on for $59.99 per year . Both services also come with a 3-month free trial.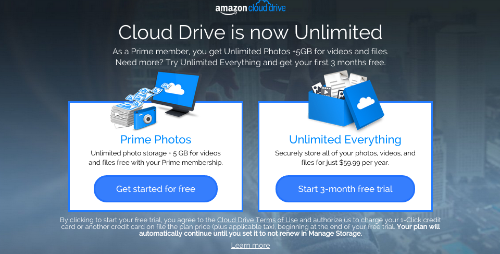 Amazon's new cloud storage plans makes it one of the first big players in the crowded cloud-based storage market to offer unlimited plans to anyone. For example, Dropbox only offers unlimited storage through its pricier business plan, and Google does the same through its for Education program.
Amazon also now has one of the most affordable cloud storage options available. As a comparison, Apple's iCloud is $0.99 a month for 20GB of storage, and Amazon's Unlimited Photos is equivalent to $1 a month. The only trade off is you have to pay the entire $11.99 for Amazon's storage up front.
You can sign up for Amazon's new Unlimited Cloud Drive plans at Amazon.com.