Amazon has added hundreds of thousands of new titles and new Prime Playlists to its newly launched music streaming service. The new tracks are from both new and existing artists including Linkin Park, Shakira and Skrillex, just to name a few. Prime Music launched on June 12 as part of Amazon's Prime subscription service.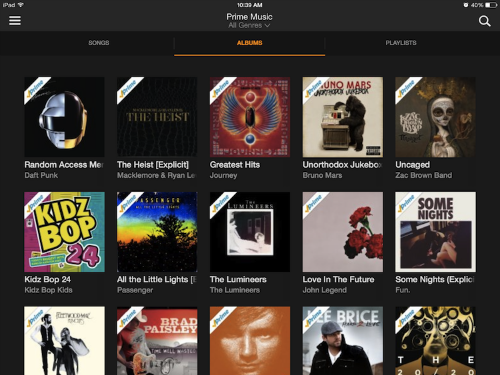 Prime Music gives users access to over a million songs without any ads or playback restrictions. Users can also download songs from the Prime Music catalog for offline listening. The service is available on Amazon Kindle devices, iOS, Android and PCs or Macs. iOS users can download the free Amazon cloud player to access the Prime Music catalog on their iPhone or iPad. The app supports all devices running iOS 6.0 or later, and it can play songs already stored on your iTunes account.
An Amazon Prime membership is $99 for one year. The service includes access to Prime Instant Video, Prime Music and other benefits like free shipping on Amazon.com.
Amazon also recently launched a standalone digital and audio book subscription service called Kindle Unlimited. This service offers access to 600,000 digital books and thousands of audio books for only $9.99 a month. This means Amazon customers can get access to unlimited streaming movies, television shows, music and books for only $20 a month. That's not a bad deal when you consider Netflix only offers movie streaming for $8.99 a month, and an ad-free Pandora subscription is $4.99 a month.