Amazon released version 2.9 of its Kindle app for the iPhone, iPad and iPod touch on Wednesday. The update brings access to more than 400 magazines to iPad users via Amazon's Kindle Store. Customers can buy single issues or subscribe to publications like Martha Stewart Living, Food Network Magazine, Cosmopolitan and Men's Health. You can also read and highlight print replica textbooks and access PDFs through the new Send-to-Kindle e-mail address.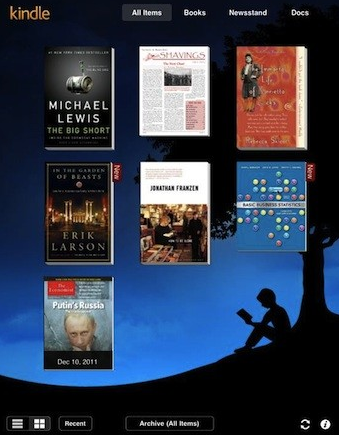 "Email PDFs & other documents to your new Send-to-Kindle e-mail address and we deliver them to your device. The documents are automatically archived in the Amazon Cloud and available for re-download on your iOS or supported Kindle devices. You can also read PDFs from Mail, Safari, or by transferring them from iTunes."
The Kindle app for the iPad allows users to access Amazon's thousands of books and newspapers, and customize their reading experience by choosing the background color, font size and format. There is an instant dictionary with 250,000 entries and definitions, or an option to view the definition of a word with Google or Wikipedia. The app is free to download from the iTunes App Store.