Analyst David Hsieh has released a report on Apple's upcoming 2014 products based on his supply chain research. Hsieh believes "Apple is planning to revamp nearly all of the displays in its products over the next year." This includes a 12.9-inch iPad with a 2,732 × 2,048 resolution, a 4.7-inch iPhone 6 and 5.7-inch iPhone with a 1,920 x 1,080 display. Hsieh also said Apple will release an iWatch, a new Retina MacBook Air, and an Apple-branded TV sometime next year.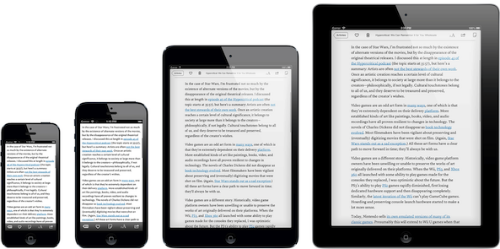 Hsieh notes that "rapid developments in technology and manufacturing of LCD and OLED displays" has made it easier for Apple's competitors to challenge the Cupertino company.
"Apple is no longer able to offer unique features in its displays as a long-term differentiator. Mobile device brands are adopting the latest displays with large sizes, high resolution, wide color gamut and low color shift wide viewing angle, and low power consumption, supplied by many panel makers not 'bounded by Apple. Introduction of the iPhone 5S and 5C was the latest example that Apple has been slow in adopting the latest display technologies.

The research note was published a few weeks before Apple is expected to announce its fifth-generation iPad and second-generation iPad mini.
Rumors and leaks have suggested the iPad 5 will be powered by Apple's new 64-bit A7 chip, and feature a thinner and lighter design. The iPad mini 2 will most likely be upgraded with a Retina display and more powerful processor.