Rovio Entertainment's new free to play Angry Birds title is now available on the App Store. Angry Birds Go! is a soapbox racing game which features all your favorite Angry Birds characters such as Red, Stella, Moustache Pig and more.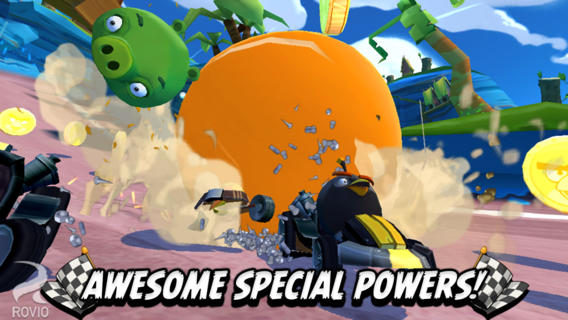 The game takes place on Piggy Island and allows you to build and race over 50 soapbox cars on various racetracks. Players can choose to use touch-based or tilt-based controls to steer their kart, and select between three difficulty levels for all the different stages. The game features many game modes from basic races to Fruit Splat, and it is very easy to play. The game also doesn't require any previous knowledge of the Angry Bird franchise to enjoy.
The first level "Speedway" includes 35 challenges and three free karts to choose from (one costs in-game currency). Other cars can be unlocked via in-app purchase or by using Angry Bird "telepods". Telepods are physical toys that can be purchased from retailers like Amazon.com,
and can be used to interact with the game using your devices built-in camera. The basic telepod costs around $9.99, and individual cars in the game range from $2.99 to around $9.99. Telepods or in-app purchases are not necessary to play the game. You can also collect bird coins and gems during races to spend on various upgrades.
The game is a lot like Nintendo's Mario Kart where you must race other karts down various tracks while dodging obstacles and using special powers to smash your competition.
Angry Birds Go! is available for free on the Apple App Store. It supports all iOS devices running iOS 6.0 or later, except the 4th generation iPod touch.