Some iPad users may be disappointed that Apple's first generation tablet hardware is missing a camera or an SD card slot among other things. Much hype has surrounded the gyroscope chip included in the iPhone 4 and all of the cool things on the horizon that gyro-enabled apps will be capable of doing.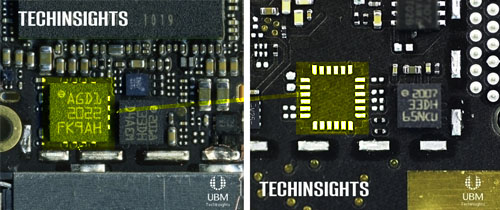 Turns out Apple likely nixed plans to include a gyroscope on the current model iPad and is saving the feature for an upgraded device. This photo shows an iPhone 4 gyroscope (highlighted on the left) and a similar empty space on the iPad circuit board (right side). According to UBMTechInsights analyst Steve Bitton, the pin arrangement on the iPad matches the InvenSense digital gyro. This was the first three-axis gyroscope chip to hit the market.
STMicroelectronics manufactures the gyroscope and accelerometer found inside the iPhone 4, as well as the iPad accelerometer chips. The gyro chip is referred to as a microelectromechanical system (MEMS) as it measures its orientation in space using tiny electronic and mechanical components inside the chip.
Apple is the first mobile device company to get digital gyroscopes into smartphone owner's hands. The iPhone 4 announcement highlighted the feature with Steve Jobs playing a game of virtual Jenga on stage. Developers can use the CoreMotion APIs to access the gyroscope and accelerometer for their apps. In addition to linear motion, the gyro provides pitch, yaw and roll information that makes tracking a device's position in space more accurate.
Space for a gyroscope chip isn't the only built-in evidence of either a part Apple removed before production or the company's planning for future models. An empty slot the perfect size for a camera similar to the iPhone 3GS camera exists in iPad frames.