Looks like 2011 will be the year of the iPad. This is according to an invitation sent out by Apple for a special media event on March 2nd at the Yerba Buena Center for the Arts in San Francsico. Seen below, the invitation clearly features an iPad in the background.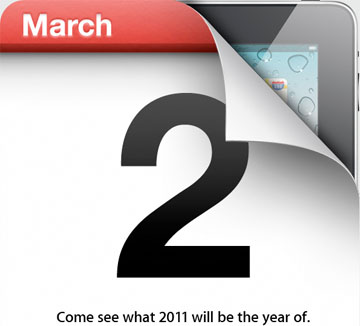 The timing is no accident, either. Apple's next generation iPad 2 launch coincides with this week's launch of the competing Motorola Xoom tablet. All of the attention will shortly be back on Apple and it's iPad in just days.
Some are expecting iOS 4.3 to be released soon, possibly on the same day. Other reports have hinted at an iOS 5.0 preview for those looking forward to the iPhone 5 later this year. Whatever the case, it's all but certain that the iPad 2 will be revealed on Wednesday at 10:00 AM Pacific Time.
Now that Apple has announced that Thunderbolt ports will be supported on the newest MacBooks, it's possible that Apple will add the port to iPad 2. Based on Intel's Light Peak technology, the Thunderbolt port is up to 20 times faster than USB 2.0 and twice as fast as USB 3.0. Besides blazing transfer speeds, Thunderbolt supports DisplayPort, video output including HDMI, gigabit ethernet and more.
Recent case designs have been leaked that show mystery slots and port openings for new features not found on the original iPad models. Speculation as to the reasons for these mystery case openings has included SD card support, miniUSB and now Thunderbolt. Case leaks have also confirmed a thinner profile and rear-facing camera. It's likely the iPad 2 will also have a front-facing camera for FaceTime video chat compatibility.
The iPad 2 is also expected to ship with an improved speaker and larger speaker grille. Whatever Apple packs into the iPad 2, it will only be a few more days until the world finds out what's next.