Apple just didn't announce its new iPhone models and smartwatch on Tuesday, the company also announced its own mobile wallet called Apple Pay, new iCloud storage pricing and that iOS 8 will launch on September 17th.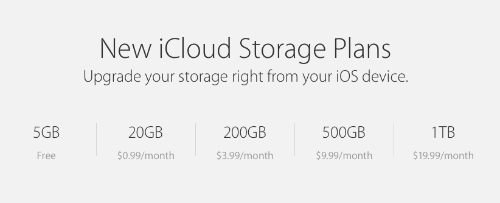 Apple Pay will allow iPhone owners to simply tap their device on a payment terminal and use their Touch ID fingerprint sensor as an electronic signature to pay for products at participating retailers such as Starbucks. The advantage of Apple Pay is that no credit card information is stored on Apple's servers and Apple has no interest in tracking your purchases. Merchants will also be blocked from seeing your card numbers and the Find my iPhone feature will allow users to suspend mobile payments if their phone is lost or stolen.
Macy's, Bloomingdales, Walgreen's, Duane Reade, Subway, McDonald's, Panera Bread, Whole Foods, Staples, The Disney Store, Target and Sephora are just some of the 220,000 merchants who have already agreed to support Apple Pay.
Apple Pay will only work with the iPhone 6 or iPhone 6 Plus because it uses NFC technology to work.
Apple quietly updated its iCloud storage prices to fall closer in line with its competitors such as Dropbox. Users will continue to get 5GB of iCloud storage for free, but will have to pay $0.99 per month to receive an additional 20GB. 200GB will cost $3.99 a month, 500GB will cost $9.99 a month and 1TB of storage will set users back $19.99 per month.