Apple designs revealed by Patently Apple point to a future iPad bezel sensitive to touch. This smart bezel would replace the physical home button and add a variety of controls to the area surrounding the display.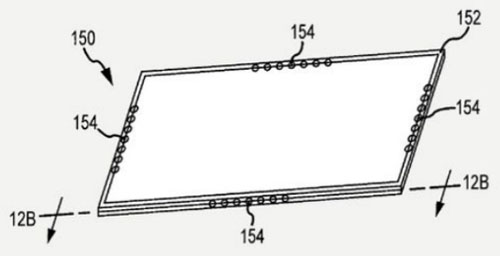 Inside the smart bezel would be pressure, touch and other sensors along with status lights that would respond to multi-touch gestures. Replacing the home button currently found on iPad bezels would be just one of many possible uses for the new hardware.
Applying varying amounts of pressure to the bezel or swiping in a particular direction could change the volume or screen brightness on a future iPad. Similarly, double-tapping the bezel would simulate pressing the home button and wake the tablet from its sleeping state. Indicator lights along the black border of the iPad would presumably be designed to be invisible most of the time, and only light when needed.
With all of the possible sensors that could be used inside a smart bezel, the number of input options for the user are many. Proximity sensors would detect when a hand is close to the iPad, while various activities such as tapping, touching, holding, and applying pressure would be used alone or in succession to perform actions with the device.
With a multitude of controls around the sides and edges of the iPad users would no longer have to navigate through so many settings screens or press physical buttons. The complexity yet simple-to-use nature of a smart bezel fits with Apple's already intuitive designs. Although the technology is probably not far enough along for the upcoming iPad 2, we can expect to see a variation of this patent in future iPads down the line.