In somewhat oddly preemptive fashion, Apple has released a support document on its website detailing the process for battery replacement on the Apple iPad. The crux of this document is that, unlike with the iPhone, iPad owners who have batteries that have a diminished capacity, fail to hold a charge, or are otherwise defective will have their entire iPad replaced instead of Apple servicing the unit and replacing the battery itself.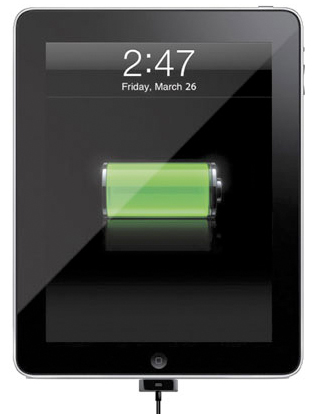 The cost for this replacement service is $99 + $6.95 shipping, for a total cost of $105.95 per iPad. Service can be arranged through
your local Apple Retail store, authorized service provider or by contacting Apple Technical Support via phone.
The $99 charge, of course, pertains only to iPads that are outside of the standard Apple 1-year iPad warranty and are uncovered by an extended 2-year AppleCare warranty.
If you're faced with sending your iPad in for battery replacement (whether under warranty or not) it is important that all the data you wish to preserve on your iPad be backed up first. Apple will not preserve any of the data on your iPad. Instead, you'll receive a fresh new (or refurbished) iPad in exchange for your defective iPad, and will need to sync/restore it via iTunes once you receive it.
Apple elaborates, "you will receive a replacement iPad that will not contain any of your personal data. Before you submit your iPad for service, it is important to sync your iPad with iTunes to back up your contacts, calendars, email account settings, bookmarks, apps, etc. Apple is not responsible for the loss of information when servicing your iPad."
Apple expects that most iPads will exchanged and returned within one week.