Apple is giving away 12 free gifts to iOS 7 users starting on December 26. While it is unknown what the items will be, they normally include free downloads of movies, TV shows, games, books and music. iOS 7 users can receive Apple's 12 free gifts by downloading the 12 Days of Gifts app from the App Store.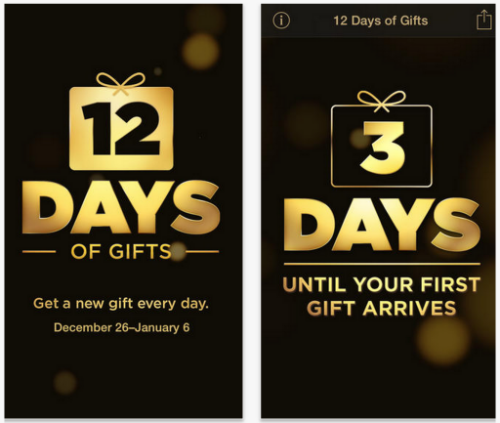 The app allows users to download 1 free item each day for 12 days. Each free gift only lasts 24 hours, but users can enable alerts so they can receive a notification each time a new item is available. In previous years Apple has given away games like Sonic Jump, downloads of TV shows like How I Met Your Mother and free singles from artists such as One Direction and Ke$ha.
The free app was previously called 12 Days of Christmas and was originally only available in Europe, Canada, Japan, and some other countries. This is the first time it has been available in the United States.
The app is compatible the iPhone, iPad, and iPod touch and requires iOS 7 or later.