Our money is on the next model iPad including a built-in camera. More evidence has surfaced that Apple plans to integrate a camera into the iPad, or that the company abandoned plans to include a camera in the first generation while keeping it as an upgrade plan for next year. AppleInsider reports that Apple's iPad management profile policies clearly indicate settings for camera restrictions.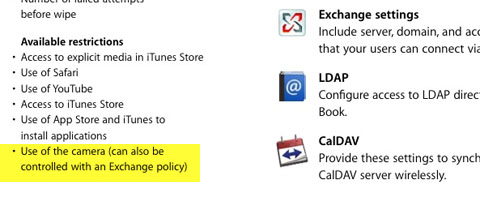 These profile policies are available to corporate users to configure the iPad for employees in the field. Some departments may not want their iPad cameras activated, and they will have the option of turning off the feature. Like other evidence that has surfaced in past weeks, it would appear that Apple may have abandoned plans to include a camera at the last minute before launch. The iPad hardware has perfectly fitted slots for an iPhone-sized camera behind the glass.
Keeping customers interested in hardware upgrades is one of the company's strategies for repeat business, and eliminating the camera this time around increased profit margins slightly. Besides the camera-ready hardware, prototypes were even spotted with what appeared to be camera lenses on the front. Other evidence that Apple is working on iPad video chat has been discovered, including iPad FaceTime calling.
With Apple hiring iPad engineers who focus on "audio, and video capture and playback" one can only wonder what the company has up their sleeve. What's almost certain is that future iPads will have at least a front-facing camera. Apple is interested in spreading FaceTime to as many devices as possible, so we could even see an official iPad webcam accessory for those soon-to-be older models.
[ AppleInsider ]