Apple today refreshed its MacBook Pro lineup with three new 13-inch models and two new 15-inch models. All the new models have received updated processors and more memory. The 13-inch models now ship with a 2.6GHz dual-core Intel Core i5 chip and 8GB of memory. The new 15-inch models are now powered by a 2.2GHz quad-core Intel Core i7 processor and come with 16GB of memory. All models are equipped with Apple's Retina display and feature up to 9 hours of battery life.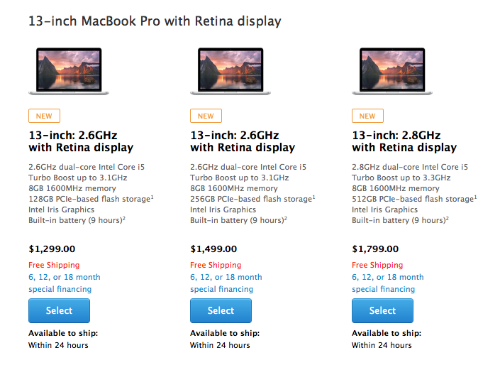 As for prices, the 13-inch lineup still starts at $1,299 and the 15-inch models start at $1,999. The pricier 15-inch model is the only unit that has received a price change and it is now only $2,499.
Apple recently introduced an entry-level iMac for $1,099, and refreshed its MacBook Air lineup. The new MacBook Airs also received a reduction in price and start at $899 for the 11-inch models and $999 for the 13-inch models.
You can purchase the MacBook Pro with Retina display here and new MacBook Air models here.
Apple will be rolling out its latest Mac OS in October. Mac OS X Yosemite will be available for free to all Mac users.