Apple (AAPL) will be reporting its second quarter earnings next Wednesday, April 23rd, and if the experts that Fortune contacted are correct in their predictions, the Cupertino giant will be reporting a decline in iPad sales.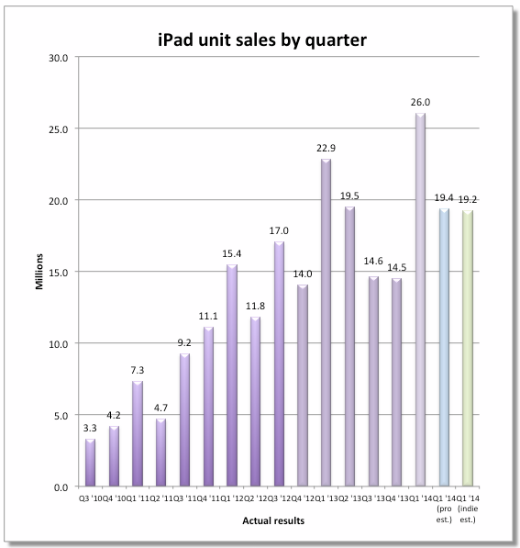 iPad sales currently account for about 20% of Apple's total sales, making it the company's second largest source of revenue (behind the iPhone, of course). Last year's Q2 numbers showed a very healthy 55% year-over-year growth, but growing competition such as Samsung's Galaxy tablets and the rising
popularity of "phablets" has tempered expectations this year. Fortune contacted 34 analysts, 21 Wall St. professionals and 13 amateurs, to form a picture of what to expect from Apple next week in regards to iPad sales.
More than half of the analysts expect Apple to report a decline in sales - the group average estimate was 19.3 million sales, which would represent a .7% year-over-year decline. The professionals' average was 19.4 million sales, versus a 19.2 million estimate from the amateurs. The most negative outlook came from Matt Lew of the Braeburn Group, who expects Apple to announce that it sold just 15 million iPads in Q2, which would represent a 23% year-over-year decline. Horace Dediu of Asymco offered the most optimistic estimate - 21.81 million sales, which would translate to a 12% year-over-year increase.
Apple will officially release its Q2 FY14 financial results on Wednesday, April 23 at 5 PM Eastern via a conference call. You can listen to an audio webcast of the announcement at Apple's Investor Relations page.