Here's a concept that could make its way onto a future Apple tablet: multiple speakers. A patent application revealed by AppleInsider describes several dynamic stereo speakers placed on a mobile device that would adjust sound based on orientation.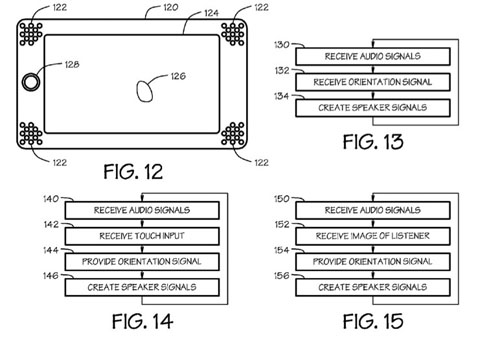 This would work by using the orientation sensor to adjust signals to speakers when turning your iPad sideways, to continue optimum left/right stereo sound. The design is titled "Audio Channel Assignment for Audio Output in a Movable Device" and would make it possible to hold the iPad in any direction and hear proper stereo sound.
Not only this, but the patent application shows an iPad-like device with four speakers. It may not be surround sound, however this configuration when coupled with an audio processor can trick the ear into hearing sound from specific locations. More than two speakers can reproduce audio in a variety of ways that would enhance sound.
The patent was filed on July 6, 2009. Current design leaks and case designs have pictured the next generation iPad 2 with a larger speaker, although it's unclear whether or not the device will support stereo sound. Initial speculation about the first iPad hinted at stereo, but production models did not end up with the feature.
Multiple speakers would solve the problem of covering the speaker port while holding the iPad. One drawback of improved and louder audio could be a drain on battery life. It will be interesting to see how Apple engineers integrate patent concepts like these into future tablet devices.