Apple's online store has been updated to show that iPad pre-orders placed from now on will not be shipped on April 3rd. The new shipping date is April 12th for Wi-Fi only models, and remains late April for Wi-Fi + 3G iPads.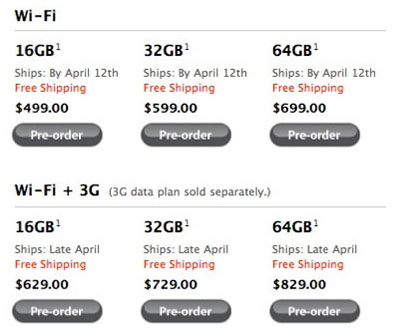 The company has not announced sales figures, although several estimates have put the number anywhere between 250 and 500 thousand units. iPads that are pre-ordered from now on will not be available for in-store pickup, suggesting that Apple has sold out of its first batch of devices.
Apple stores are likely to have some inventory ready for a rush of iPad buyers on launch day, however it's unclear whether there will be enough supply to meet demand. iPhone launch dates routinely see long lines of Apple fans, with some even camping out before the store opens.
Some sources have speculated that the iPad could outsell the original iPhone in the first three months of availability. The iPhone flew off shelves in 2007 and Apple's sales numbers shocked some observers.
In a related announcement, Apple is now offering the Camera Connection Kit for pre-order. The adapters, which allow direct connection of memory cards, will ship in late April and cost $29.