Apple today released iOS 8.0.1 then pulled it after users reported that the update broke their cellular data and Touch ID on the iPhone 6 and iPhone 6 Plus. An Apple spokesperson told The Verge, "we have received reports of an issue with the iOS 8.0.1 update, and said that the company is "actively investigating" the issue. You can still downgrade to iOS 8.0 if your device is experiencing problems after installing iOS 8.0.1, or you can wait until Apple rolls out iOS 8.0.2 in the near future.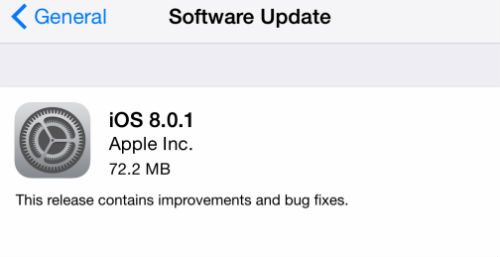 The update was originally released to fix a few bugs and improve "the reliability of the Reachability feature on iPhone 6 and iPhone 6 Plus," according to the changelog. Other iOS 8.0.1 fixes included eliminating a bug so HealthKit apps could be made available on the App Store, fixing an issue with Safari and addressing an issue with 3rd party keyboards.
It has been a rocky start for iOS 8 , the iPhone 6 and iPhone 6 Plus. Apple's newest handsets were released around the same time the company was weathering its hacked celebrity photo scandal, and users are reporting that the iPhone 6 and 6 Plus are bending in their pockets. However, Apple has still managed to sell over ten million iPhone 6 and iPhone 6 Plus models combined, even with all the distractions and hiccups.