After a year of rumors and speculation, Apple officially announced the next installment in their line of post-PC devices. The third-generation iPad will rock blazing fast 4G LTE cellular connectivity along with a Retina-caliber HD display.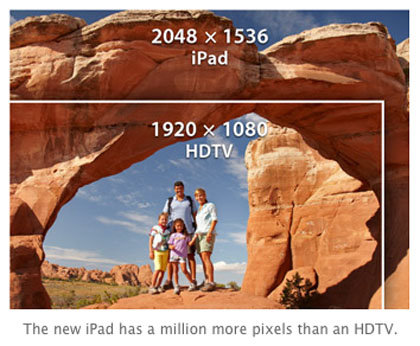 The new iPad display quadruples the number of pixels to 3.1 million (2048 x 1536 resolution) compared to the iPad 2. This means at 264 pixels per inch, individual pixels can't be distinguished from 15 inches away. This is one million pixels more than an HD display. Of course, all of these pixels require more processing power.
The display will be powered by the A5X processor with quad-core graphics. Apple also claims the new screen has 44 percent better color saturation to boot. To go along with the improved screen, the camera has been upgraded to a 5-megapixel backside illuminated image sensor with a 5-element lens and infrared filter. Of course the camera will be capable of recording full 1080p HD video. Existing iPad apps will be automatically scaled up to the new resolution.
4G LTE means a whopping 73 Mbps download on compatible networks. Apple will partner with AT&T, Verizon, Bell, Rogers and Telus to bring the faster speeds to the new iPad. The device will also be capable of 21 Mbps HSPA+ and DC-HSDPA at 42 Mbps. Where carriers support the feature, personal hotspot will also be available with the new iPad.
The iPad will retain its 10-battery life, with 9 hours of usage possible on 4G LTE. Apple sold 15.4 million iPads last year, which is more than any PC manufacturer sold of their entire line of computers worldwide. The App Store has over 200,000 apps designed specifically for the iPad. The next iPad also features a new, iOS native dictation button to replace typing with the on-screen keyboard.
Apple is also releasing an updated version of AppleTV with 1080p full HD resolution and several new functions. The interface has been improved and 1080p video options are now available using iTunes. The new Apple TV will be available March 16 for $99.
The latest firmware update, iOS 5.1 will be available for download today. As part of the latest iOS version Siri will be launched on the iPhone 4S in Japan over the coming weeks. Apple also released an iOS version of iPhoto optimized for the iPad and iPhone for $4.99.
The new iPad will ship on March 16, with pre-orders opening today. Pricing remains level, with the 16 GB Wi-Fi only model running $499. 32 GB of storage runs $599 while 64 GB will be $699. Adding 4G LTE capability adds $130 to the price.
Interested buyers can continue to get their hands on an iPad 2 with 16 GB of storage for $399, or add 3G connectivity for an extra $130.