Apple senior vice president Scott Forstall unveiled the first look at the iOS 5 at the Worldwide Developers Conference on Monday. Forstall covered 10 of the 200 promised new features for the iPhone 4, iPhone 3GS, all iPads, and iPod Touch.
Deep Twitter Integration
iOS 5 will now feature single sign-on support for Twitter, allowing owners to use the social media network without leaving an application. Third-party Twitter clients will be able to access your login details, and you'll able to tweet directly from YouTube, Safari, and Maps.
Notifications
According to Macworld, Forstall's announcement that iOS 5 includes a notifications upgrade "brought an uproarious cheer from the developers in attendance." The Notifications Center is a centralized point for all your notifications, and like Android devices can be accessed with a single swipe of your finger. Doing so will show you missed calls, voicemails, text messages and push notifications in one centralized location, instead of the old system of pop-up menus.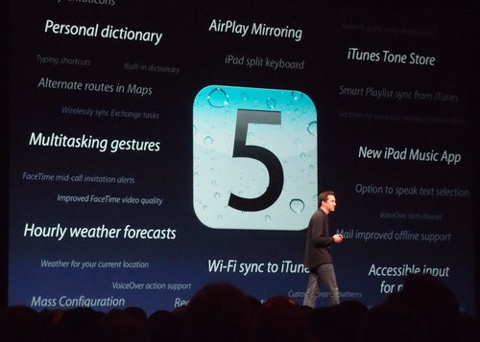 PC Free
No more connecting to iTunes to start your iOS device. New phones will display a Welcome setup screen, and new software updates will now be over the air as well.
Safari
Safari now features Reader, which allows you to remove ads and other content to strip-down websites for easier reading. Tabbed browsing comes to the iPad.
Reminders
The name of the app says it all, Reminders supports multiple lists, and can remind you of tasks based on your location. To-do lists can be date and/or location stamped.
Camera
Take photos faster with the new lock screen short cut. Bypass the lock screen with the short cut to launch your camera immediately, and use the volume control to snap a picture. You can even edit or crop photos right on your device.
Mail
The Mail app now features rich text formatting, the ability to drag addresses between To, CC and Bcc fields, flagging of messages, full message searches and S/MIME. iPad users will now be able to swipe to inbox when in portrait mode.
Game Center
Additions include photos, achievement point comparison, see friends of friends, recommended friends, recommended games and support for turn-based games.
iMessage
This unifies all iOS devices. Send text, photos, videos, contacts, and group messages between the iPhone, iPad, and iPod. It also features delivery receipts, read receipts, typing indicators, and works on 3G and Wi-Fi networks.
Forstall said many more features will be announced like personal dictionary support, hourly weather forecasts, Wi-Fi sync to iTunes, a new iPad music app and AirPlay mirroring for the iPad 2.
The iOS 5 will ship for iPad, iPhone and the third- and fourth-generation iPod touch owners this fall.