If you are unfamiliar with Apple's Your Verse site, it is a collection of inspiring stories and videos about how people use their iPads. So far there is one about deep sea diving with the iPad protected by the iDive case, one about mountaineering on some of the world's highest peaks with the iPad and Gaia GPS, and one about high school coaches using the iPad and an app from the Cleveland Clinic to measure the effects of concussions. Apple has just released the fourth story, which shows how one Bollywood choreographer uses his iPad and several apps to achieve the perfect dance scene.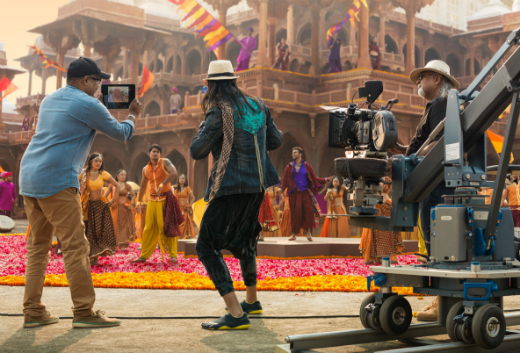 Choreographing a Vision in Bollywood focuses on how Feroz Khan, one of Bollywood's most sought after choreographers, uses his iPad Air through the course of creating a dance scene (which are integral to a Bollywood movie). According to Khan, the iPad Air is the perfect tool and allows him to both craft and share his ideas - "an idea can hit me at any time. It helps that my iPad Air is always with me. So I can capture everything that inspires me." This includes everything from picking costumes and props to choosing filming locations. He can easily take pictures and quickly share them with his production crew,
director, producer and many other team members. He used to spend hours in meetings just to get his ideas across to everyone involved, now he uses his iPad to set up a shared photo stream that others can add their ideas and comments to as well. Every time it is updated everybody is instantly on the same page. He also added that choreographing a scene used to involve lugging around sketchbooks, cameras and stacks of three ring binders, all so each dancer's movements could be documented. Now he just uses the iPad. He will record a dancer and then use the SloPro app to play it back in slow motion (up to 1000 fps) so he can see every nuance. He can then easily point out to the dancer anything that he wants done differently. In addition to SloPro, Khan uses Artemis HD to experiment with various lens options and discuss them with his film crew before the day of the shoot.
Khan says that "without a doubt, iPad has changed how I work. It's easier to share my ideas with the team and get every detail right. That makes the dancing - and the entire film - more spectacular than ever." Check out the site to see how else he uses his iPad and to see a video of his final product. Take a look at the other stories as well, it's interesting to see how other people and professions use the iPad to improve various aspects of their lives, which is the point of the Your Verse site.