Astro Mined: Galactic Bombsquad is now available for all iOS devices. The game features 50 space-themed levels where players must solve puzzles to escape minefields.
The game is a lot like Minesweeper with its undifferentiated squares and number system which allows players to know how many adjacent squares contain mines. However, Astro Mined offers a twist by allowing players to use boulders to destroy the mines. Players can also collect fruit and coins to earn extra points.
"I love the simple-yet-beautiful game play of Minesweeper," says Aleksander Fedorynski, lead developer and creator of Astro Mined. "I always end up wanting more from the core game play, though. Instead of pure puzzle-solving, I wanted an adventure. Instead of merely avoiding mines, I wanted to disable them. Astro Mined is the game I had in mind – and I decided to build it myself after realizing that a Sokoban/Minesweeper hybrid simply didn't exist."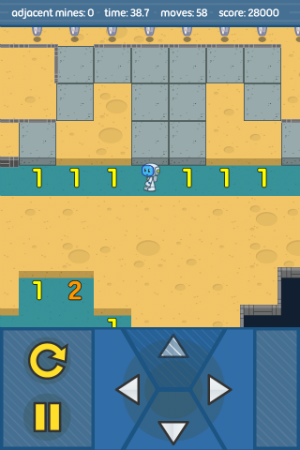 The game's controls are simple and easy to use, and work well on either the iPhone and iPad. You just tap the D-Pad in the direction you want the cute astronaut miner to move around the minefield, and that's it. The game also features a cartoon art style, different planet-themed levels, and fun music and sound effects.
Fans of Where's My Water? will like the puzzle solving game play of Astro Mined.
The first 18 levels of Astro Mined: Galactic Bombsquad are free to download on the Apple App Store. Additional levels can be purchased for $1.99. The game also features zero in-app purchases.