AT&T launched two new iPad data plans on Monday, however it remains unclear when the unlimited data plan will be removed as an option. The company previously explained that current subscribers to the unlimited data plan would be able to keep those terms of service on a monthly basis until they stopped renewing the plan.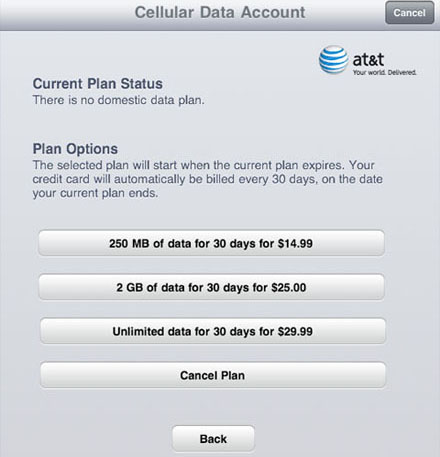 Since then, reports have surfaced that AT&T might allow iPad buyers who ordered their devices before June 7 to have the unlimited plan as an option when their iPad arrives. Representatives from AT&T couldn't say how long the unlimited option would be available and advised purchasing the plan immediately.
The unlimited option could be removed at any time, so the only way to guarantee the plan indefinitely is to be an active subscriber and renew the plan on a monthly basis automatically. These changes to the data plans will affect new iPhone buyers as well, with only current contracts retaining unlimited data.
Interestingly, it also appears that previous iPad owners are given the option of 250MB for $14.99 instead of the new 200MB plan for $15. Whether or not this option will stay in place of the new DataPlus plan for existing customers is also unknown.
AT&T's new data plans are in two tiers, DataPlus and DataPro, going for $15 and $25 per month respectively. DataPlus gets you 200MB per month, 50MB less than the previous lower-tier iPad data plan. Users who exceed their bandwidth quota during the month can purchase an additional 200MB for $15.
DataPro offers 2GB of data and when a subscriber hits this limit within the 30-day billing period they can add 1GB for $10 as many times as necessary. DataPro costs $5 less than the $30 unlimited data plan that's being phased out.
According to AT&T, 98 percent of users consume less that 2GB of data, and 65 percent use less that 200MB per month. It seems with the unexpected demand for iPad units that AT&T is moving away from unlimited data plans to ease the impact on their network and improve profitability.
Reaction to the move has been mixed, with many complaining of "bait-and-switch" tactics or short lead time between the announcement and implementation of the changes. Others are happy to save money every month since they were previously forced to pay for bandwidth that went unused.