AT&T has officially announced they will be selling the new iPad through all sales channels on March 16. People who did not pre-order the iPad 3 in time, or do not wish to camp outside their local Apple store can try AT&T retail shops on Friday. Remember, if you're planning on buying a 4G model, AT&T is not offering free hotspot support like Verizon.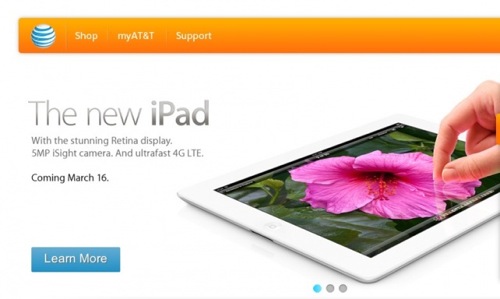 The new iPad 4G models have the ability to utilize high-speed LTE networks and share the connection with up to 5 other devices. This makes Verizon's superior LTE network and free personal hotspot support the better deal.
Also don't forget carrier's rarely have enough iPads to keep up with demand, and only want to sell you their data plans. Since buying an iPad doesn't require that you agree to a carrier contract, there is no need to buy a data plan right away. However, you still must choose which carrier you prefer by Friday. The new iPad is only configured to work with either Verizon or AT&T, not both. It's still unknown if AT&T will offer free personal hotspot service in the future, so choose wisely.