Auxo brings the same polished app switcher improvements to the iPad as iPhone jailbreakers have enjoyed for the past several months. Not only does Auxo look and feel like a stock iOS feature, it functions smoothly to make using the iPad more efficient. There are three main features of Auxo once installed, in addition to thorough documentation and customizable settings.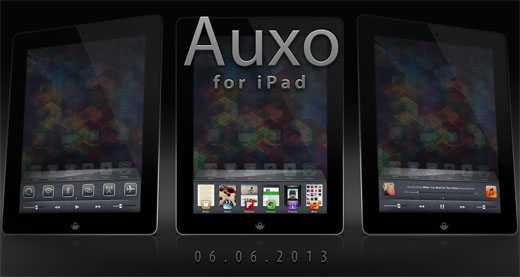 The first is an improved multitasking dock, which actually shows previews of each app screen right in the switcher. No need to press the home button, just swipe up from the bottom of the home screen to reveal the dock. Swiping down will close an app; no more touching a small, red X to achieve the same thing. Holding on an app icon in the switcher will prompt to remove all apps from the multitasking tray. Tapping yes clears all of the apps without having to individually close each one.
You can even tell Auxo to keep certain apps open when you choose "remove all apps". The fun doesn't stop there. The Auxo jailbreak tweak has an improved music player. Swipe right on the Auxo tray and the music scrubber and controls will appear. Tapping the music icon on the right will head directly to the music app you're currently playing music with, and touching the album art will expand the art to full screen.
Last but not least, Auxo includes several built-in settings toggles to make configuring your iPad simpler than digging down into Settings menus. Swipe right on the music scrubber and a series of toggles will be revealed above the music controls. There are multiple levels of toggles available depending on your settings, so swiping up or down will scroll through these. Just tap a toggle to turn on Personal Hotspot, Wi-Fi, Airplane Mode or any of the others built-in to Auxo.

Toggles can be fully configured under Settings -> Auxo. Volume, music and brightness controls are right there as well, for quick access. Auxo for iPad has full support for landscape and portrait mode on the iPad, which only adds to its appeal. The jailbreak tweak has received rave reviews across the board from iPhone users, and the iPad version is no different to date.
Auxo for iPad is available on Cydia from the BigBoss repo for $1.99. Those who have already purchased Auxo for the iPhone can grab the iPad version for the discount price of $0.99. Check here for instructions on how to jailbreak iOS 6.x with evasi0n. You can also find out how to purchase and install Cydia tweaks with this guide.