It looks like this may be the year that Apple has decided bigger is better. The company will allegedly begin production on a 12.9-inch iPad by the first quarter of next year, according to Bloomberg. The 12-inch tablet dubbed the "iPad Pro" by the press will be released sometime early 2015.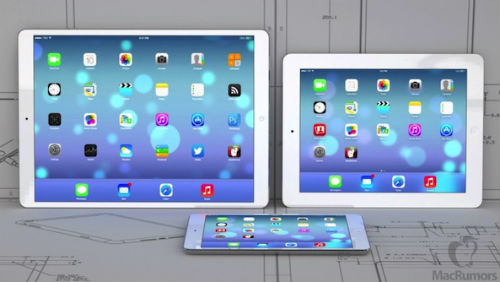 This is not the first time we have heard Apple is planning to expand its iPad lineup. Back in April, KGI Securities' Ming-Chi Kuo told investors that Apple will launch its second-generation iPad Air in 2014, followed by a 12.9-inch iPad in 2015, and in May an alleged image of an iPad Pro prototype was published on the Chinese site Weibo.com.
Apple is also expected to increase the display size of its next-generation iPhone. The iPhone 6 will be released as two models: a 4.7-inch model and 5.5-inch model, according to various sources.
Bloomberg also noted that the new iPhone models went into production in July and will be announced on September 9, 2014.
If the rumor mill is correct, Apple will be releasing up to 8 new products over the next few months. This includes 3 rumored iWatch models and 3 new iPad models.