Airplane manufacturing giant Boeing is hoping to move pilots away from paper navigation charts in favor of iPad apps in the cockpit. Many airlines are looking at the prospect of going digital and some have already begun to use iPads for navigation. Alaska Airlines has replaced paper manuals with the iPad in flight.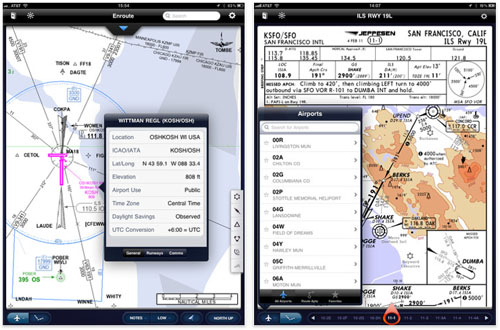 Asian airlines are currently considering adopting the technology, and United Continental Holdings purchased 11,000 iPads for future use. One of the advantages of using a tablet computer in place of paper maps is that navigational charts can be updated constantly without replacing the manuals.
Pilots can also use or review the charts whether they're on the ground or on the flight deck. Boeing's 787 Dreamliner is the company's first all-digital aircraft, scheduled to begin commercial service on an All Nippon Airways route from Tokyo to Hong Kong. As the number of pilots increases and those who enter the profession are more familiar with technology, Boeing sees paperless training as the wave of the future.
Jeppesen, a division of Boeing, already makes several iPad applications including Jeppesen Mobile FliteDeck. This app makes it possible to access enroute chart data, terminal charts, and Jeppesen Airway Manual text when subscribing to their service. The company provides navigational charts and data for pilots, railway companies and ship operators. Jeppesen is the largest company of its kind by number of users, however competing iPad apps such as ForeFlight have received much better reviews on iTunes.
It's a matter of time until iPads or other tablet computers become more common in the cockpits of aircraft everywhere. For flyers who aren't comfortable with the prospect it's almost time to stay on the ground.