The iPad Camera Connection Kit if finally shipping, and iPad owners can be pleasantly surprised that Apple did not announce all of the kit's capabilities at the keynote speech. Besides reading SD memory cards to import photos, the Camera Connection Kit was expected to provide a USB port for digital cameras.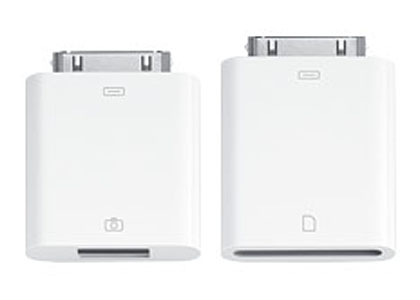 The USB adapter plugs into the Apple 30-pin dock connector on the bottom of the iPad, or into the keyboard dock. What's interesting is what devices Apple has chosen to allow the iPad's USB port to recognize and use.
There's been a lot of attention given to the use of a wireless Bluetooth keyboard with the iPad, but now with the USB adapter it's possible to connect a USB keyboard. For those who already have a USB keyboard this is good news. It will also save a few bucks at the Apple Store compared to the wireless version, and won't require batteries.
The second surprise is that USB audio headsets indeed can be connected using the Camera Connection Kit. The iPad will automatically switch audio to the USB headset for listening to music and having a two-way VoIP phone call.
External USB hard drives did not make the list. Unfortunately they are not supported by the iPad and cannot connect via the USB port. It's possible that Apple will add more functionality with iPhone OS 4 when it comes to the iPad this fall. The USB port has the potential to give iPad a broad range of compatibility with different devices.
As of yet, Apple has not provided a complete list of digital cameras that are supported by the USB adapter. Although the Camera Connection Kit is limited, it expands the iPad's possibilities. The Camera Connection Kit is available now for $29.