With the iPad reportedly cannibalizing netbook sales, some accessories on the horizon are set to accelerate this trend. Enter the ClamCase, a sleek, folding case with a fully integrated bluetooth keyboard for the iPad.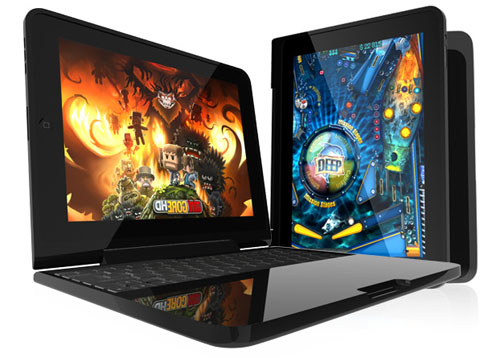 The product is expected to launch in fall 2010. ClamCase features full protection of the iPad and three different display positions. The iPad is held by the top half of the shell and takes on the appearance of a laptop screen.
A similar product in the works, the iPad LapDock, requires an Apple bluetooth keyboard. ClamCase has a sleeker design and integrates its own bluetooth keyboard into the bottom half of the frame. All of the iPad's touch screen functionality is complemented by a physical keyboard, although one drawback is that for a vertical orientation the ClamCase must stand up on its side.
The only thing that would make this case better would be an internal battery or the ability to charge the iPad while it's docked in the case. We're sure this won't be the last of the laptop or netbook-style cases to hit the market. No word on pricing or pre-order information yet.
[ ClamCase ]