Soon you can get the best of both worlds, or just fool your friends. The iPad LapDock is a simple case that makes your iPad look like a netbook. We all know the iPad is a touch-screen tablet, but what if you want a physical keyboard? The Apple Keyboard Dock requires a table. How to type comfortably while the iPad is on your lap?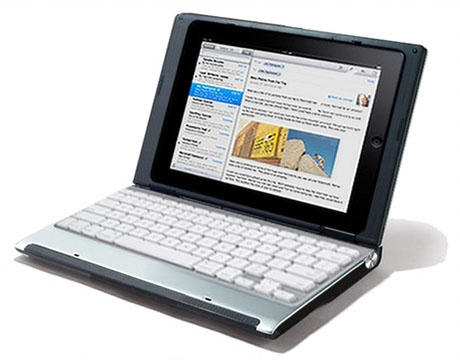 iPad LapDock integrates your Apple wireless keyboard and iPad into one unit. Pictured above, the keyboard and iPad are safely nestled into the LapDock, giving it the familiar mobile computing form factor. The top can even be closed like a real netbook, protecting the iPad and wireless keyboard inside.
Unfortunately, due to the placement of the iPad, some functions that are dependent on a portrait orientation of the device will not be accessible while docked. We're not used to seeing people turn their netbooks sideways and touch the screen.
With LapDock the name may be a little misleading as there's no actual docking with a 30-pin connector, no charging, and no buttons or electricity running through the LapDock. Sometimes simplicity is the best way to go, however.
The iPad LapDock certainly won't reduce the need for real laptop computers, but it might make the iPad a little bit easier to use in some situations. No price or launch date for the iPad LapDock has been announced.
[ iPad LapDock ]