I feel stupid just typing the name "iPad Head Girl," but I had to share the odd marketing campaign for the new iPad app called Cosmo For Guys. Hearst created a video of a women with four iPads attached to her head to promote their new digital magazine for men. The whole thing looks staged and just flat out weird, especially when one guy touches her face to launch the Cosmo For Guys app.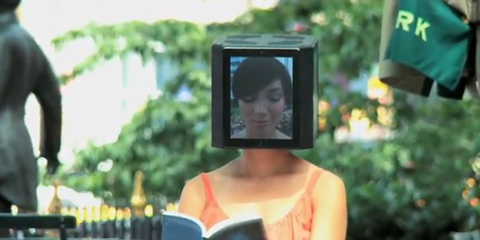 "The concept and analogy here is to show a guy 'getting inside a girl's head' and sort of 'reading her mind' by flipping through the magazine pages on the iPad. The reason for that is: it is the first magazine for men that is written by women, so for the first time women are letting guys in on what they think," Creative Director Michael Krivicka told The Next Web.
Thinkmodo, the team behind the video, used hidden a camera inside a purse that connected to a pair of sunglasses for the actress to see. This means the displayed image of her face had to be previously recorded which adds to video's creepiness. There is a lot I could say about Cosmo For Guys and the marketing campaign, but I like my job. So I'll let you be the judge.
Check out iPad Girl reading a book below.