Pad & Quill, a St. Paul, Minnesota based maker of top shelf iPad and iPhone cases, has just released their new "Author Series" of cases specifically for the iPad Air. If you're looking for something other than the typical flimsy, solid color case, one that you can customize to look and feel like quality craftsmanship, you should check these out.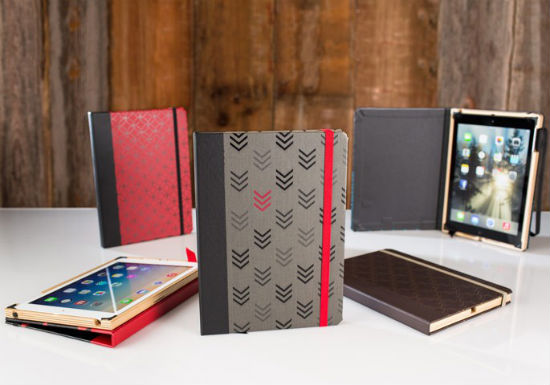 The Author Series iPad Air cases, as the title suggests, resemble hardcover books. The case is made from hand finished wood that is covered with satin cloth. You can choose from nine solid colors and five patterns for the outer fabric. A patterned cover adds ten dollars to the $79.99 base price. You also choose
a solid color for the spine, the elastic band (that keeps the cover closed) and the inside fabric. For five dollars more you can add a pocket to the inside, useful for keeping papers. You can add a gold, silver or black monogram to the front cover for $15.
Aside from the customizable appearance, the Author Series cases are equipped with magnetic wake/sleep cover that has pretty much become standard in iPad cases. All ports are accessible while the iPad is in the case. Fittingly, an old fashioned style "bookmark" lies underneath the iPad and is used to easily remove the tablet from the case.
The Author Series case is not for everybody as it is a little bit heftier than the average case, but if you want a good looking quality piece of craftsmanship, look no further. The Author Series case is also available for the iPad Mini.