Dead Defence may be one of the hardest and confusing Tower Defense games ever released for iOS devices, but I'm sad to see it go. Developer PlayFlock has released version 1.3.0 which brings the fifth and final campaign. The update also introduces two new monsters, a new boss, and the ability to obtain crystals for free.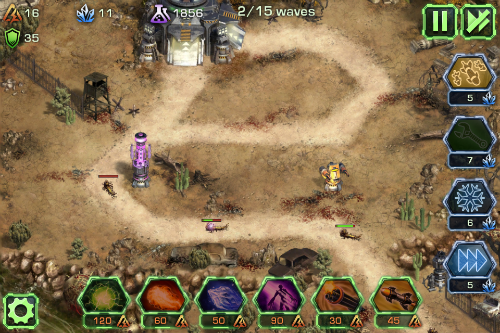 How you obtained crystals without paying for them was confusing in earlier versions of the game, and trying to defeat some levels without them seemed outright impossible. Being able to get crystals for free may now allow players to actually advance to the end the game, or go back and obtain a perfect score on older boards.
I was kind of harsh on Dead Defence when it was first released, but being a hardcore Tower Defense fanatic it has grown on me. Even though it seems like it at times, the game is not impossible to beat. I highly recommend it to gamers looking for a really, really challenging iOS game to play. Dead Defence takes A LOT of trial and error to complete, and it is guaranteed to drive you bonkers, even with the free crystals.
Dead Defence is a free Tower Defense game where you must defend Earth from a viral outbreak that has transformed its citizens into monsters. The game is available for all iOS devices running iOS 4.3 or later. You can download it now from the App Store, or grab the latest and final version via the OTA update released today.