Apple Inc's shares fell below $400 for the first time since 2011, after a report from the DigiTimes claimed iPad mini shipments will decline by as much as 30% during the second quarter of 2013. Sources in the supply chain expect a 20-30% decline in shipments due to anticipation of a second-generation device. However, it's common for interest in an older device to slow when a product refresh is expected.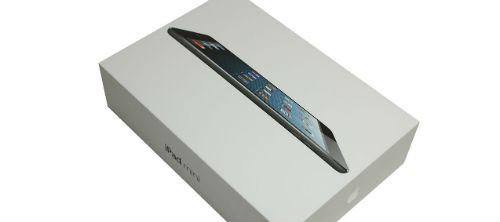 Cirrus Logic, who makes chips for the iPhone and iPad, also fueled the fire when it reported an inventory glut. Since Cirrus relies on Apple for most of its revenue, the manufacturer's success is considered a good indicator of demand for Apple products. Analysts believe Cirrus' unsold inventory shows a diminished consumer interest in Apple's iPhone and iPad.
Rumors of delays for the iPad 5 and iPhone 5S have also been running rampant. Apple is purportedly pushing the envelop on its hardware which is causing production issues. Apple is rumored to be working on fingerprint scan technology, and possibly considering a higher-density Retina display panel for the next-generation iPad.
The iPad mini is expected to receive a slight upgrade in a resolution and RAM, plus sport an upgraded processor when it's released. However, the addition of Retina display has been rumored to have raised production costs by 30%. It's unknown if the iPad mini will see an increase in price due to the costly upgrades.