Apple told USA Today that "customer response to the new iPad has been "off the charts," and the rapidly changing shipping dates proves it.
The original March 16th pre-orders sold out within two days of the new iPad announcement on March 7th. This weekend ship dates slipped to an estimated "two to three weeks" in the United States, and most European Stores have been sold out of original pre-orders for a few days now. Apple said "customers can continue to order online and receive an estimated delivery date" for their iPad 3.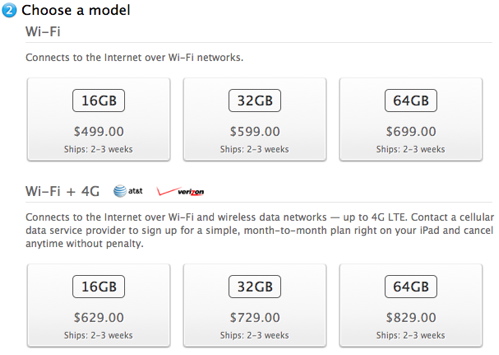 If you would like to purchase an iPad 3 on the official launch date of March 16th you will have to stand in line at your local Apple store. If you still plan to pre-order from Apple's online store you should move quickly. Apple had trouble keeping up with the demand for the iPad 2 last year, and took several months to catch up with pre-orders. If the demand for the new iPad is "off the charts," it's safe to assume that shipments will eventually be delayed like its predecessor.