Looking for a faster connection? AT&T on the iPad got you down? All you need is an expendable Verizon Wireless MiFi and some electronics know-how to mod your iPad. You can kiss your warranty goodbye but in exchange your iPad will achieve download speeds six times faster than 3G and act as a Wi-Fi hotspot for other devices.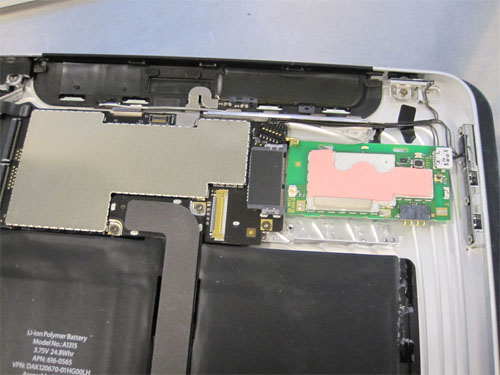 The modified iPad featured in this Dish Network Blog actually connects to the Verizon network via the MiFi's Wi-Fi signal, not by accessing the cellular data network directly. The MiFi internals are mounted inside the iPad frame, although this required removal of half the speaker resonating chamber.
The author claims the sound is still pretty good, just slightly reduced volume on the bass end. One other drawback, GPS gets lost in the shuffle when the AT&T 3G card is removed. The process required some degree of trial and error, as the author described a green LED light on the MiFi internals that actually shined through the iPad screen before it was later removed.
Connecting the iPad battery to the MiFi required some circuitry from the MiFi in order to make the right number of leads from the battery to the MiFi. Another power issue: the MiFi is designed to turn off after 30 minutes of inactivity. The solution was simple, add a switch in place of the micro-SIM card. A two dollar switch now protrudes from the micro-SIM slot on the side of the iPad and switches the MiFi card on or off.
This may be an interesting DIY project, although it's kind of a long shot from an actual CDMA Verizon iPad connecting to EV-DO. No telling if Apple has this hardware modification in mind for consumers anytime soon. Might as well break out the soldering iron.