The world's first gesture browser is finally here for the iPad and iPad 2. Gesture browsing is just one of the cool features included in this free App Store application by developer MoboTap. First off, Dolphin Browser HD is optimized for iPads running iOS 3.2 or later. An extensive list of features makes Dolphin a much better browsing experience than the stock Mobile Safari.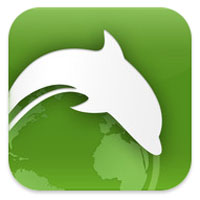 To start with, gesture browsing is almost like having your favorite bookmarks available with one touch. Tapping a single button and swiping a pre-recorded gesture immediately brings you to the associated URL. You can even add your own gestures to make shortcuts to commonly used commands such as forward and back.
Dolphin Browser actually started as an Android mobile application and recently came to the iPhone. The developer aimed to use the iPad's larger screen efficiently and make the iPad web browsing experience intuitive and simple. Besides adding features such as tabbed browsing, and full screen (much like the Atomic web browser) Dolphin echoes the Opera browser with its speed dial screen for quick access to favorites.
A sidebar allows for quick window switching and bookmark access, while Dolphin provides optimal bookmark management and private browsing mode. The app will even send custom User Agent information to allow the iPad to browse desktop versions of websites.
Last but not least is a feature much like Flipboard called the Dolphin Webzine. This function displays Webzine versions of websites including Twitter and Facebook, allowing the reader to flip through content and select articles to read. This digital magazine format is a different way to browse the web. Overall, considering its popularity and the breadth of features in Dolphin Browser HD, we'll be surprised if it stays free for long.