The team of developers who created evasi0n7 have released two new versions of their iOS 7 jailbreak to fix aother boot loop bug and add an important security update. Evasi0n7 v.1.0.3 was released to fix the cellular reboot problem plaguing Retina iPad mini owners. Evasi0n7 v.1.0.2 previously fixed a similar issue with the iPad, but the bug seems to still be affecting second-generation iPad mini devices.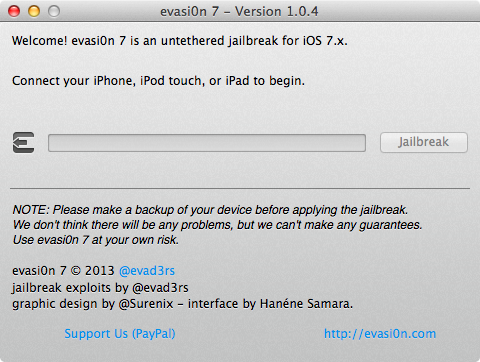 Evasi0n7 v.1.0.4 was released via a Cydia update entitled "evasi0n7.x Untether." It fixes the "two security issues that were reported by the community," according to the release notes. You can find version 1.0.4 in the Changes section in Cydia after your refresh it, or on the official evasi0n website.
Version 1.0.3 also brings iOS 7.1 beta3 support.
New users can learn how to jailbreak their iOS devices here. Remember to always backup your device before jailbreaking or upgrading to a newer version of evasi0n7.