The evad3rs have released evasi0n 7 v.1.0.2 to fix a bug that was affecting iPad 2 models. The problem caused second-generation iPads to get stuck in a reboot loop when users tried to install the new jailbreak. Complaints about the reboot issue first appeared on JailbreakQA and Twitter. iPad 2 users can now download evasi0n 7 beta 1.0.2 via evasi0n.com.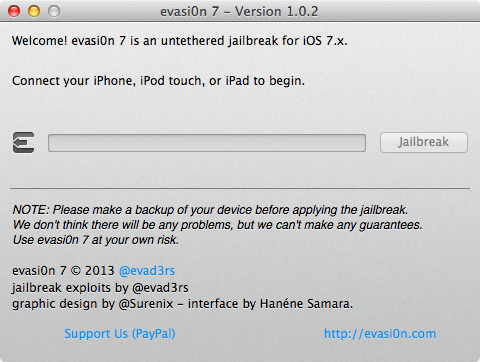 In other jailbreak news, Jay Freeman announced this morning that the Cydia Substrate has been updated to support iOS 7 devices with Apple's A7 chip like the iPhone 5s, iPad Air and second-generation iPad mini. This will allow anyone with a jailbroken device running iOS 7 to install future jailbreak tweaks that support Apple's latest firmware. You can find the Substrate update in the Changes section of Cydia.
You can learn how to jailbreak your iOS device by following these instructions, and you can find a list of recent iOS 7 jailbreak tweaks here.