Apple has some interesting things planned for the second generation iPad. With new evidence surfacing every week, it's all but certain the next iPad will include a camera. The question is whether we will be capturing images from the front, back or both sides of the new iPad.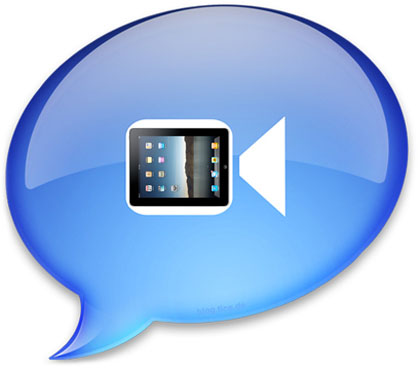 As expected, iPhone OS 4 has support for the rear-facing iPhone camera, and is coming to the iPad this fall. What's more surprising is TUAW reported that a process called "iChatAgent" is running in the new operating system. Although interesting, Mac users know that iChat can be used without video.
Enter revelations posted by 9to5mac: references in iPhone 4 to "moderators, chat rooms, encrypted video conferences and other features which could be even be used by developers in the future to add video chat." The details are all there, right down to the same sound effects used in iChat.
Right now Apple is using the framework for native apps, and the features are not available to developers. They are also testing video chat on three different servers on the company's private intranet.
According to Mission:Repair, there's an empty slot in the iPad frame that's just the right size for a front-facing iSight camera. Of course, these parts pre-date the iPad model that actually shipped. According to iFixit, "The ambient light sensor lives in a compartment that a camera would love to call home." It's possible Apple will move things around to make a camera happen. They are hiring, after all.
Apple recently posted a full-time position, "Performance QA Engineer, iPad Media" and an excerpt of the job description reads:
"The Media Systems team is looking for a software quality engineer with a strong technical background to test still, video and audio capture and playback frameworks. Build on your QA experience and knowledge of digital camera technology (still and video) to develop and maintain testing frameworks for both capture and playback pipelines…Experience with tuning of and image pipeline..."
Why the iPad emphasis on still, audio, and video capture and playback? Something's in the works.
Another option, already proven in concept by third-party app developers, would be an official Apple webcam accessory. This would wirelessly add a camera to the iPad and could easily be attached directly to the device. Apps that already make this possible include Camera-A and Camera for iPad, which link up your iPhone camera for use on the iPad via Bluetooth or Wi-Fi.
It's a matter of time until the iPad gets camera functionality. Anyone out there waiting to buy an iPad until this happens?