An exploding iPad forced customers and employees to be evacuated from a Vodafone retail store in Canberra, Australia earlier this week, according to news.com.au.
A Vodafone spokesperson confirmed that the city's firebrigade arrived after the "store filled with smoke and sparks continued to appear from the charging port" of an unidentified iPad demo model. No one was injured during the incident.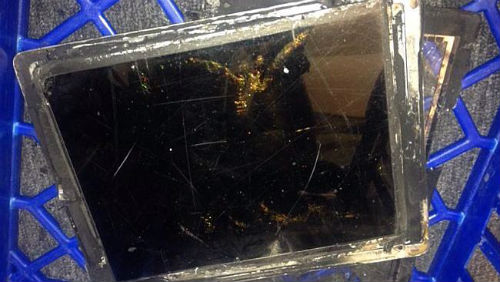 News.com.au says an Apple representative did visit the store to investigate the cause, but has not responded to requests for comments.
While Apple products are not well known for spontaneously exploding, a Chinese woman did die from an electric shock while using her iPhone 5 back in July. However, Apple went on to blame "unauthorized third-party adapters" for the cause of the incident.
The unfortunate death of the 23-year-old China Airlines flight attendant prompted Apple to launch a "USB Power Adapter Takeback Program". The program allowed iOS users to return any third-party adapters to Apple Retail Stores in exchange for an Apple-approved USB power adapter at a discounted price.