Facebook's Messenger app is now universal supporting all iOS devices including the iPad. The app now features a multi-window interface displaying your contacts on the left sidebar next to the new full screen chat window. Facebook Messenger previously ran as an enlarged version of the iPhone app when used on the iPad. Version 7.0 also brings improved free calls and it fixes an issue so that active users show up faster than before.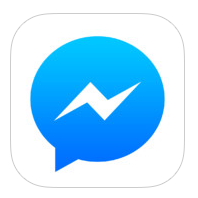 According to various rumors, Facebook plans to force its users to download its messenger app by eliminating the chat option from its main app. The company purportedly started sending notifications to some users in Europe informing them they had two weeks to switch to the messenger app before they would lose their chat capabilities on the main app. Facebook is desperately trying to get its users to familiarize themselves with its other free mobile offerings besides its main service.
For example, Facebook recently released another messaging app called Slingshot to rival Snapchat. The app allows users to share photos or videos that can only be viewed when their family or friends "sling" a photo or video back to the original sender.
Both Facebook Messenger and Slingshot are available for free on the Apple App Store. The apps support all devices running iOS 7.0 or later.