Sonic The Hedgehog 4: Episode II is now available for purchase in the App Store. This is the fifth Sonic game for iOS devices. In Sonic 4: Episode II you and a friend can team up as Sonic and Tails to stop Metal Sonic and Dr. Eggman's evil alliance.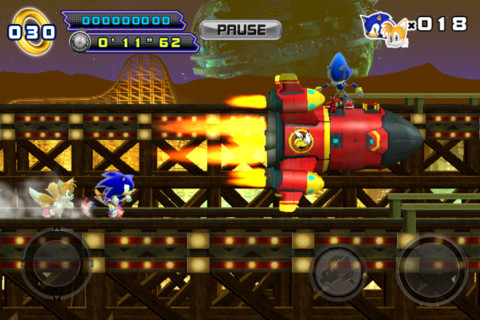 The game features Gamecenter, accelerometer support, Cloud Save, and a special unlock for users who own both Episodes I and II. Sonic 4: Episode II is a universal game compatible with the iPhone, iPod touch, and iPad. It requires iOS 4.0 or later.
You can download the new Sonic for $6.99 via the iTunes App Store.
The Sonic 4 Saga continues in Episode II with the return of a beloved side kick and fan-favorite villains!

Following the events of Episode I, Metal Sonic has returned to form a formidable alliance with Dr. Eggman! To face this new evil, Sonic will have to call upon an old friend to help him save the day! Now joined by Tails, race across four brand new Zones and take down fearsome new badniks with deadly combination moves in order to put an end to this dastardly duo's plans!