The creators of the popular Paper drawing app for the iPad have released a Pencil stylus for Apple's tablet. The stylus utilizes Bluetooth 4.0 and the Paper app to allow users the ability to easily sketch, write and create on their iPad. Fifty-Three's software is able to decipher your hand from the Pencil so you can write from any angle just like you would on paper. Even cooler, you can flip the stylus upside down to erase your mistakes just like a real pencil.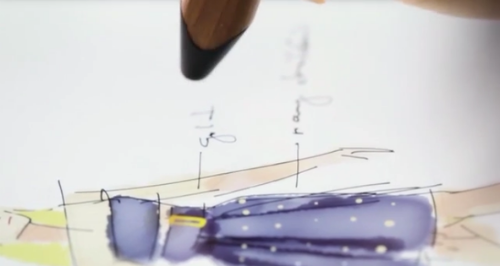 The Pencil charges off any USB port and the battery can last for up to a month on a single charge. The pencil tip and eraser sensors are plated in 14kt gold, and the body is crafted from a "solid piece of premium-grade walnut," according to Fifty-Three's website. The solid black brushed aluminum model is $50, and the Walnut model is $60.
The compatible Paper app is available for free on the App Store. It was voted the iPad App Of The Year in 2012 by Apple. The app feature various free drawing tools with the option to buy more from the in-app store. The app also offers the ability for users to stream their creations to Tumblr and share them on Facebook and Twitter.