Apple seeded the first iOS 8.4 beta to developers on Monday. The new release comes only a few days after iOS 8.3 was released to the public. The official release notes only mention Apple's "all-new" Music app, which has been redesigned to make "exploring your music collection easier and more fun," and iTunes Radio.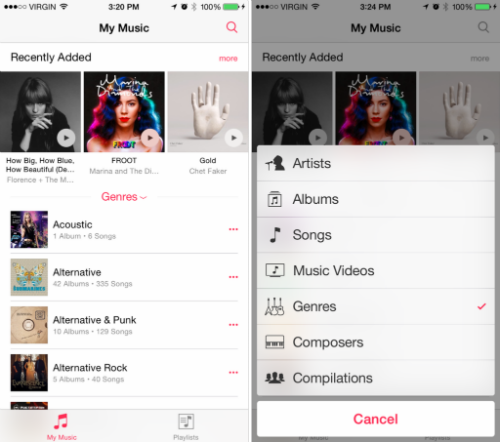 iOS 8.4 users will be able to personalize Playlists with their own descriptions and art, and recently added artists will now be displayed at the top of your library so they're easier to locate. Other new features include Global Search, an improved "Now Playing" section with "a stunning new design that showcases your album artwork," the ability to wirelessly stream music from the Now Playing window and a new MiniPlayer that allows you to see what track is playing while you browse your collection.
Apple also promises that "discovering music with iTunes Radio is easier than ever".
Apple has been trying to revamp its music offerings because song downloads have started to decline the last few years. The company added Shazam's popular audio recognition service to Siri in iOS 8, and acquired Beats Music subscription service for $3 billion in 2014. Apple hopes its Beats acquisition and redesigned Music app and iTunes Radio will help it compete with other music services such as Pandora and Spotify and boost iTunes sales.
Image from iDownloadblog.com.