Fisher Price has been getting a lot of attention at CES for its new lineup of kid friendly iOS accessories and apps. The Fisher Price line of Apptivity products for preschoolers run from about $20 to $50. The Laugh & Learn Apptivity Storybook Reader for the iPhone and iPod touch protects your device from sticky fingered infants, while entertaining them with interactive storybook rhymes and other Fisher Price apps. The iPhone cover looks like a child's book and advances the story or app when opened and closed.
The Laugh & Learn case fits the iPhone 3GS, 4 and 4S or iPod touch (4th generation). iPhone 5 and iPad mini versions are planned for later this year.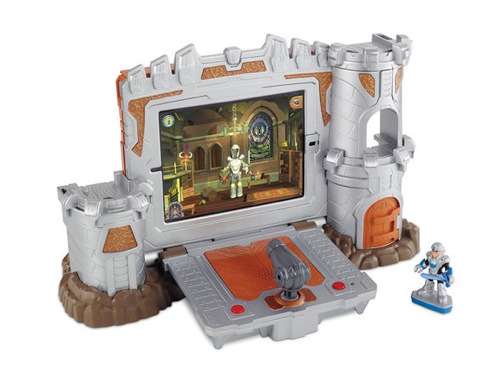 The Create & Learn Case for the iPad is a rugged, kid friendly iPad cover made with Otterbox technology. The case not only protects your iPad from accidental damage, but it provides a fun and educational experience for kids. The case features a sturdy, easy to hold handle and stylus for interacting with Fisher Price iPad apps, like the Alphabet Animation cards.
The Create & Learn Case for the iPad will debut in fall of this year for $39.99.
Fisher Price is also rolling out a line of games geared towards toddlers. The Imaginext Fortress playset attaches to your iPad to create a board game and interactive storybook. It features a screen protector to guard against scratches and smudges, which is a good thing since children are encouraged to use a knight figurine to interact with the iPad's display. Children can also fire virtual cannon balls and complete challenges and puzzles.
The Little People Apptivity Barnyard cover allows children to use the Fisher Price Little People figures to interact with the iPad. The barnyard playset also acts as a cover to protect your iPad from scratches and smudges.
Both playsets will retail for around $100, and their complimentary iOS apps will be free.